CHMC 4HZJ-2500/2500A Peanut Harvester Features
2020-09-17
1. The whole machine is combined with a side-mounted fuel tank, a new appearance design, novel shape, popular elements, and more contemporary characteristics;
2. New-style shock-absorbing, sealed, luxurious cab, equipped with new-style hydraulic control, not easy to fatigue;
3. Equipped with a working instrument display, which displays the speed of the CNC drum and the fan, which is convenient for operation;
4. Equipped with mobile phone charger, wash water tank, air-conditioning interface;
5. The pick-up table uses a floating pressure feed roller to avoid clogging and easy for maintenance;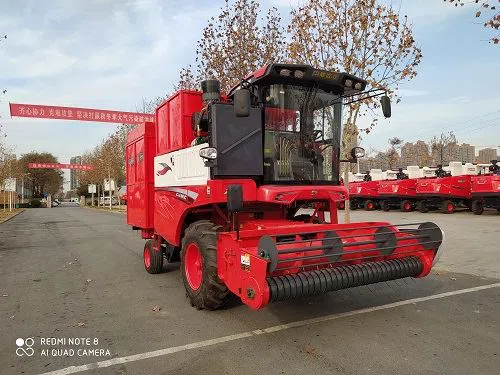 6. Adjustable bridge bottom plate, suspended bridge feeding wheel, feeding smoothly, Increase the buffer force and reduce the peanut crushing rate.
7. Optimized fruit picking system, high work efficiency, soft fruit picking, and low crushing rate;
8. The reinforced screening box is reliable and durable with strong applicability;
9. Adopted D 3.5 type large clutch gearbox which is reliable and durable;
10. Optional rear brake steering axle, mechanical rear drive, hydraulic rear drive.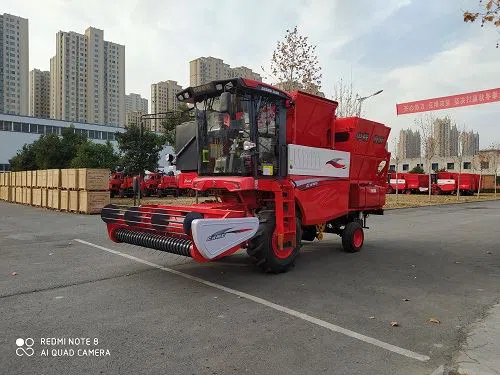 11. There are 120/130/140 horsepower engine is optional, with a wide range of power equipment;
12. Increase the 245-liter fuel tank for better endurance;
13. The grass exhaust fan has a secondary lifting device; the harvest is not easy to be blocked when it is wet, and the efficiency is high;
14. A secondary air delivery system is reserved for miscellaneous materials, which is suitable for harvesting with large feed quantities;
15. The drive of the whole machine adds a intermediate shaft drive, the design is more reasonable and the operation is more reliable;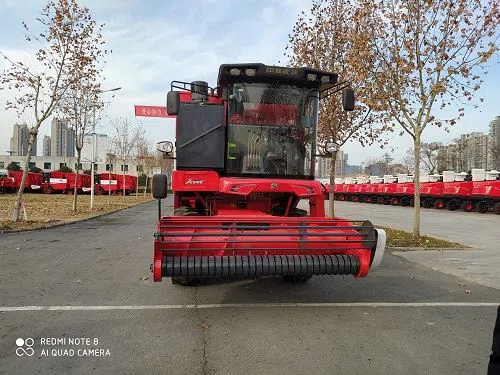 16. It adopts triple-belt hydraulic main clutch with high transmission efficiency and stronger reliability of the whole machine;
17. Rotating dust cover for cleaning impurities,to avoid the trouble of manual cleaning, and the water tank is not raising to high temperature during long working period;
18. The air-jetting mode is adopted for cleaning and the centrifugal fan sends the grass to reduce the peanut fruit breaking rate, the grass and fruit separation effect is good, and the forage is clean;
19. The entire vehicle adopts famous bearings, and high-speed maintenance-free bearings are selected for key parts, which is convenient for maintenance and low failure rate;
20. It can be equipped with a straw box environmental protection dust reduction system to reduce dust and support environmental protection policies.
Technical parameter:
| | | | | | |
| --- | --- | --- | --- | --- | --- |
| Engine power (horsepower) | Engine speed | Working width | Pure work productivity | Total Weight | Dimensions (L x W x H) |
| 120---140 HP | 2400 rpm | 2550mm | 4~10 acres/hour | 5250kg | 6485×2770×3420mm |